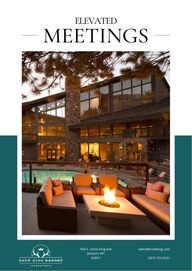 Return to flip book view
Snow King Meetings
Page 1
MEETINGSELEVATED400 E. Snow King AveJackson, WY83001sales@snowking.com (307) 734-3251
Page 2
Jackson HoleA valley in the northwest of Wyomingsurrounded by mountains for fun andbreathtaking views. "In all things of nature there issomething of the marvelous."– Aristotle
Page 3
0313Resort OverviewArea HighlightsMeeting InformationMeeting Specials0917An overview of resortaccommodations including hotelguestrooms and luxury condo units.Summary of location as well as resortprogramming that happens onproperty.From skiing at Jackson Hole MountainResort to floating the Snake River,learn about the fun that is available inJackson Hole. Ready to submit an inquiry? Please email sales@snowking.comHighlights meeting space variety fromindoor to outdoor, small to large. Findinformation on banquet and teambuilding options.See what incentives are available foryour meeting when you are ready tobook. CONTENTSTABLE OF
Page 4
MOUNTAINSIDELODGING IN TOWNLocated at the base of Snow King Mountain, afew blocks from downtown and 20 minutesfrom the Jackson Wyoming Airport, Snow KingResort boasts breathtaking views of the TetonMountain Range and features a wide variety ofonsite activities and amenities.Ski-in, ski-out lodging accommodations in thewinter and a convenient location to GrandTeton and Yellowstone National Parks. Inaddition to extensive conference and eventfacilities, a polished catering staff, a completebusiness center, enjoy on-property dining atHaydens Post, and professional service to meeta broad spectrum of needs.In addition to hotel guestrooms and luxurycondo units, Snow King Resort hosts over20,000 sq ft of indoor and outdoor meetingspace throughout the campus. The resort islarge enough to host groups of up to 250attendees in its largest ballroom at one time. Coming new to the property in June 2022 is an11,000 sq ft luxury spa. Grand View Spa will bethe largest in the town of Jackson proper andwill be located on the third floor of the GrandView Lodge meeting space. The spa will hosttreatment rooms in addition to a halotherapylounge and movement studio.
Page 5
Depending upon the season our Adventure Center Team hosts a variety of activities guests canparticipate in on property. Participation in these activities is included in the resort fee for all leisureand group guests, although there may be chances to upgrade an experience for a cost. The Adventure Center is the hub of concierge and private activities as well. From on-site fire pitand lawn game rentals to wildlife tours they can help make your group's time outside of theboardroom memorable and what attendees will talk about for years to come. Resort Programming
Page 6
STAYHotel GuestroomsInside the main hotel building, is a total of 203 hotelguestrooms that are available as double queenguestrooms for 4 guests or single king guestrooms for2 guests. Every guestroom was newly renovated in June 2020. Double queen guestrooms feature two plush queen-sized beds and a shower-tub combination in theadjoining private bath. King guestrooms have a single plus king-sized bed anda luxury steam shower in the adjoining private bath. All guests whether staying in the hotel building orluxury condo units have access to our year-roundoutdoor heated pool, hot tub, 24-hour fitness facility,and fitness center. The majority of meeting spaces are located in the mainhotel building. Making it very convenient for your gueststo access.
Page 7
Accommodations for AllFour of the double queen guestrooms areADA certified and three of the kingguestrooms are ADA certified
Page 8
STAYLuxury CondosJust steps away from the additional included amenitiesof Snow King Resort, these richly appointed luxurymountain condos are offered in parlor studio, one andtwo bedrooms. A grand getaway awaits your arrival withall the comforts of a high-end home.The best views on property are capitalized by highceilings, bright windows and private terraces. Expansivemaster suites, bedrooms, dens and living areas invitecelebrations, conversation and relaxation. Specialtouches include covered garages and whirlpool tubs.Quality features like granite countertops, Subzerorefrigerators and gourmet kitchens or kitchenettessmooth the edge of the rugged wilderness, just outside.These beautiful luxury condos truly do rise above.Each luxury condo unit is accessed through its ownbuilding's entrance and is not able to be accessedthrough the Grand View Lodge meeting spaces.
Page 9
VIP TreatmentMany groups like to use the luxury condounits for speakers, presentors or groupVIPs.
Page 10
EVENT LAWNMeeting SpacesWE DO NOT REMEMBER THEDAYS BUT THE MOMENTSAdjacent to the south wing of the hotel building and steps awayfrom the Grand View Lodge meeting spaces, the 5,500 sq ft EventLawn is a visually stunning option for an outdoor reception orteam building event. From the Event Lawn, you can see theGrand Teton peaking over surrounding buttes on clear summerdays. Which such an open space your imagination is the onlyconstraint. Lawn games, teepees, tents, and dance floors are allavailable from local vendors to make your vision a reality.
Page 11
BallroomsBreakout SpacesTHE GRAND TETON BALLROOMInside the Snow King Resort hotelbuilding and Grand View Lodgebuilding there is several moreintimate spaces and boardrooms forsmaller meetings or breakoutsessions. MEETINGEXPECTATIONSIS GOOD.EXCEEDINGEXPECTATIONSIS BETTER.– Ron KaufmanINDOOR SPACESOur largest indoor space, with 5,320sq. feet there's plenty of room for upto 300 attendees in theatre. Thisspace is also conveniently locatedwithin the main hotel building alongwith most of our meeting spaces. THE GRAND VIEW BALLROOMOur second largest indoor meetingspace offers 2,640 sq. feet of flexiblespace with sweeping floor-to-ceilingviews of the Tetons with additionalsquare footage available on thecovered veranda and the pre-function area just outside theBallroom. Seats up to 200 attendeesin theatre.
Page 12
Sophsticated ComfortFood inspired by the area and locallysourced whenever possible for mealsyou'll want to eat over and over again.
Page 13
"People who love to eat arealways the best people."CATERINGClassic items with a modern twist. Our culinary team has prepared a catering menu that appeals toall, from build your own lunches to elegant, plated dinners. We are prepared to service groups of allsizes and can provide dining options to best fit your groups needs.DiningHaydens PostAll dishes are prepared at ourHaydens Post restaurant.Haydens Post is open every dayfor breakfast, lunch and dinnerwith a full bar an panoramicviews of Snow King Mountain. Haydens Post offers the finestcombination of warmth andsophistication for both visitorsand locals alike year-round.Enjoy sweeping mountain andvalley views, an expansive deckand wood fireplaces - and withinwalking distance to Snow KingMountain activities - all makeHaydens Post the perfectJackson Hole restaurant for adelicious way to fuel yourJackson Hole adventure!– Julia Child
Page 14
SummerTeam BuildingAny of the Snow King Mountainactivities can make for incredibleteam building and memoriesthey'll remember together foryears to come!In the warm months guests canenjoy a ride down the alpineslide, whiz along the cowboycoaster, or get the best views inthe valley from the TreetopAdventure Course. MOUNTAINMEMORIESSnow King Resort is nestled atthe base of Snow King Mountainmaking it your base camp formountain adventure.
Page 15
WINTERFun in the sun shouldn't just berestricted to summer months.There's lots of fun at Snow KingMountain even for those who don'tski or snowboard!From snow tubing to wintercowboy coaster rides yourattendees will get their adrenalinepumping and roaring with laughter!These unique experiences helpwith team building and a greatbreak away from the conferenceroom for any skill level. Snow Tubing at Snow King Mountain - private options available depending upon seasonSnowmobiling through Yellowstone National Park to Old FaithfulPrivate Fire Pit Rentals for S'mores on the Event LawnFAVORITE NON-SKIING WINTER ACTIVITIES
Page 16
Jackson HoleGateway to twoNational ParksNATIONALPARKSTHEMOUNTAINSARE CALLINGAND I MUST GOSnow King Resort is proud tobe in national park country.Yellowstone National Park isone of the nation's mostbeautiful and most alivetreasure lands, with its manygeologic and thermalfeatures. Spanning 3,500square miles at the junctionof Wyoming, Idaho andMontana, the south entranceto the park is just an hourdrive north of the Town ofJackson through the GrandTeton National Park. Grand Teton & Yellowstone– John Muir
Page 17
SEE & DOBeyond simply visiting the National Parks freelythere's lots of organized activities available. Many groups love white water rafting down thewinding Snake River, private wildlife tours or even aenjoying a good ole Hootenanny in Grand TetonNational Park at famous Dornan's! When you think Jackson Hole chances are you thinkworld-class skiing! Snow King Resort is located just20 minutes from Jackson Hole Mountain Resort inTeton Village. Organize a private charter bus foryour group or simply let your participants shredfreely down the mountain at their own pace. Not big on skiing? There's more winter activities likesnowmobiling, dog sledding, visitinghot springs, and snowshoeing aroundJackson Hole in the snowy season!Adventure
Page 18
Spa & WellnessCOMING SOONOpening in the summer of 2022 is the town ofJackson's largest and most luxurious spa atSnow King Resort. The Grand View spa will feature 11,000 squarefeet of spa space, 6 treatment rooms, 1 coupletreatment room, a halotherapy lounge, and amovement studio. Resort guests will be able to makeappointments through our Adventure Centerteam for a variety of facial and body treatmentsto relax the body and mind. The Grand View Spa will be located on the thirdfloor of the Grand View Lodge building just southof the Snow King Resort hotel building and abovethe Grand View Lodge meeting spaces. Try ending a meeting day at the Grand ViewLodge so attendees will be able to go immediatelyto a spa treatment to end the day on a note ofrelaxation and peacefulness. Earth Inspired TreatmentsWith influence taken from the natural elementsof air, earth, fire, and water immerse yourself inpeaceful serenity at Grand View Spa. A variety of facials and massage therapies willbe available to spa guests in addition to loungespaces.
Page 19
Relaxed Mind Leads toBetter ResultsNeurosurgeons from the CaliforniaInstitute of Technology found thatstronger and more lasting memoriesare formed when a person is relaxed.
Page 20
Our knowledge of business meetings,conferences, and special events enables usto provide a professional service across abroad spectrum of needs. With over 20,000square feet of indoor and outdoor meetingspace, a polished catering staff, and a fullystocked business center, we take thepressure out of hosting. Whether yourevent is a small focus group or a gatheringof the greats, we promise to deliver anunforgettable experience.Book a 2022/2023 meeting or event withSnow King Resort to get your choice ofthese perks!$35,000+ pick one$65,000+ pick two$110,000+ pick three$155,000+ pick fourDedicated Check-In DeskHospitality Lounge SpaceComplimentary Amenity Distribution DuringCheck-InUp To 5 VIP AmenitiesPub Trivia Night For The GroupOffice / Storage Space For The Meeting PlannerWaived Package Handling Fees For Up To 20PackagesComplimentary Team-Building Experience! Lawngames & s'mores in the summer or board games,hot cocoa & cider bar in the winterYour choice of concession(s) is based on total spend:Grand Perk Options:Grand Perk IncentivesWYOMINGWELCOMEAdditional Fees, Taxes, & Gratuities do not apply to thetotal spend. Subject to availability and blackout dates.Must sign the contract by May 31, 2022, for event toconclude by Dec 31, 2023Ready To Book
Page 21
Page 22
ELEVATEDMEETINGS400 E. Snow King AveJackson, WY83001 (307) 734-3251sales@snowking.com